Prince Charles' Vist to Highlight the Impact of Climate Change
02/12/2019
|
Emma Clayton
While the world's media was focused on the extinction rebellion protests in April this year, another protest was happening in the archipelago of Melanesia. On April 24th[1] in response to a general election that returned many pro-logging politicians to parliament, protestors took to the streets of the capital Honiara in response to a very real threat to not only their way of life but the islands that contain their tribal ancestry.
Melanesia is Australia's closest neighbour, an archipelago formed of Papa new Guinea, The Solomon Islands, Vanuatu, New Caledonia, Fiji, and other small low-lying islands.
With 80% of the land covered in forest[2] Melanesia is an attractive prospect for any logging companies, and according to the World Bank report from 2013, this now accounts for one-third of the nation's exports [3] The rate of deforestation has been estimated to be around 19 times what is sustainable.[4] This also has an impact on the fabric of an already vulnerable ecology; stirring up the slit in the rivers until it is introduced into the ocean damaging beautiful beaches and vital fishing spots[5]. This has a significant impact on the local communities dependent on the wood to build their traditional stilted houses, and farming, and fishing as their main source of income, and sustenance for their families.
Last week Prince Charles visited the archipelago to view the impact of climate change and draw attention to the unfolding climate emergency.
The communities he visited have already felt the impact of climate change, Alongside the pollution caused in the deforestation of the Island, global forces could eliminate this century's old way of life. With Ocean acidification caused by increased Co2[6] levels, this affects the coral around the Island, and other microorganisms eaten by the fish these communities rely on and leaving the world bereft of another natural habit. Caught in a complex relationship with the sea always depended on it for life but always living under the threat of cyclones or tsunami's, the stilted houses are not just an aesthetic architectural touch, but essential to maintaining life on a low lying island. Particularly now the one thing that is now on everyone's lips is the threat of rising sea levels caused by melting glaciers.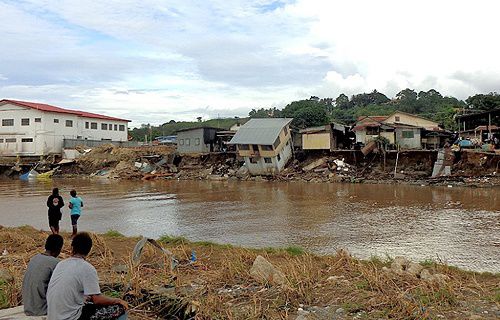 Away from these islands, rising sea levels can still seem like an abstract concept; but here we are given a glimpse into our future if we continue sourcing using unsustainable and polluting methods. Eight years ago, speaking to someone who had grown up on one of the small Islands I was told that over his lifetime the walk across the Island had become quicker as more of land returned to the sea. In the eight years since the situation only seems to have further deteriorated; Journalists accompanying the Prince of Wales reported a graveyard of trees at time 100 yards of the coast[7] rather than the beach paradise the Islands have been so well known for.
It is not only trees that are falling victim to the rise in sea levels, we are already seeing the creation of climate refugees 'Some 1,700 residents of Papua New Guinea- Carteret Island's total 2,500 inhabitants have been named the world's first environmental refugees; more than 20,000 Marshallese climate refugees have emigrated to the U.S '[8] They will not be the last, as small islands are increasingly disappearing below the waves. As part of her PhD research, Marie Schlenker visited seafaring communities from Lau Lagoon in North Malaita who had resettled in South Malaitan. This brings longheld tensions surrounding land ownership to the surface. Land ownership is an important and complicated issue in Melanisua, with land owned by tribes and past down through generations. When a community loses its land to climate change not only do people lose ancestral homes but also become illegal settlers forced to move to land held by other tribes creating triable tensions. we will likely see the emerging patterns mirrored across the globe.
But all is not lost as these communities have taken steps to reduce the effect of climate change and losing tribal lands we as businesses can also make positive choices. At buyfair.global we aim to be part of this positive change helping to create a circular economy ensuring raw materials are not wasted, and reducing Co2 emissions by providing buyers with the option buy product that has already been produced rather than requiring manufacturer and could be in a warehouse up the road. Maybe we should not only look to Melanesia as a warning, but also an example of how to future proof our world, as Prince Charles said in his address in the capital Honiara 'In this shared endeavour, it is my dearest wish that the Solomon Islands might become a beacon- in this region and across the Commonwealth as a whole- showing how extraordinary natural capital can be harnessed sustainably to guarantee the prosperity and security of future generations'[9]. Let's make Melanesia our beacon in the new decade and join buyfair as we create new ways of sourcing, and selling product to help protect our delicate natural environment.
---